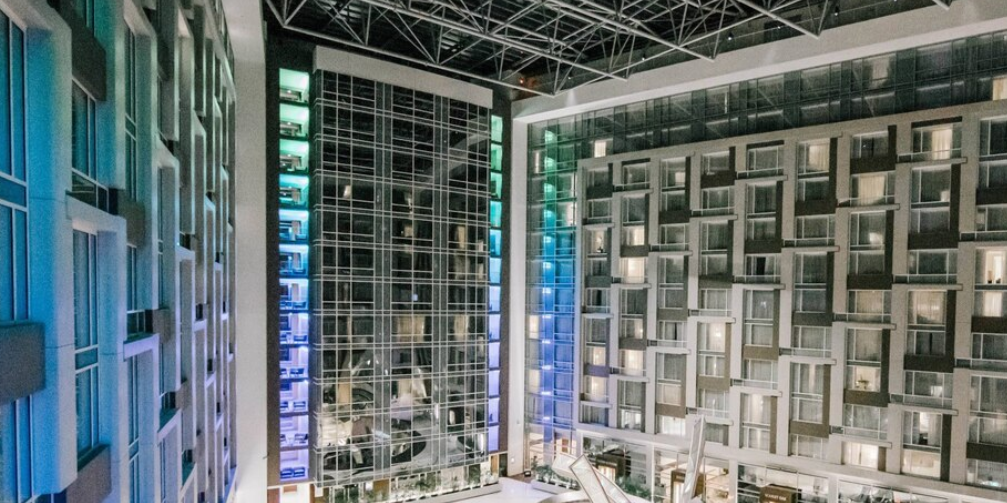 Hotel Information
Marriott Marquis Washington, DC
901 Massachusetts Avenue NW
Washington, DC 20001
Individuals are responsible for cancelling any travel arrangements directly. The Marriott Marquis will automatically cancel all room reservations and refund deposits directly, within the coming days. If you have any questions regarding your reservation, you may call the Marriott directly at 877-212-5752.
AHA staff that made flight reservations through AHA's American Express travel center, you must cancel your own reservation and a credit will be applied to your profile. You must still submit an expense report for the flight, regardless of the cancellation.
**Please note: the AHA is not associated with any third-party reservation agents. Making reservations through a third party may put your credit at risk of a compromise. To make your hotel reservation, please use the link provided in your confirmation email.
Travel Discounts
Airline Discounts
United Airlines is offering a 2-10% discount off published airfares, which will vary by market and booking class. Contact a professional travel agency, book online or call United Reservations Meetings Desk at 800-426-1122. Provide the Z Code (ZHMS) and Agreement Code (703984) at the time of booking. The booking fee is waived for all Meeting reservations.
Delta Airlines is offering a 2-10% discount on all applicable fare online or by calling the Delta Meeting Network Reservations at 800-328-1111. When booking online, select "Book Your Flight" and enter Meeting Event Code NMTPA.
American Airlines is offering a 4-6% discount on all applicable fares. American reservations and ticketing are available online without a ticketing charge. After selecting your flights, enter promo code 5840DC when completing passenger details. Or call American Airlines reservations at 800-433-1790. A service charge may apply.
Rental Car Discounts
Special meeting rates negotiated with Hertz are available by calling 800-654-2240 from within the U.S., or 405-749-4434 from outside the U.S., and providing the meeting number CV#03AB0016.
Special meeting rates negotiated with Enterprise and National are available by calling 800-261-7331 from within the U.S., or at Enterprise or National, and supplying the meeting number K2C1074.
Special meeting rates negotiated with Avis are available by calling 800-331-1551 and providing the meeting number V395503.
Travel Cancellations
AHA shall not be held liable for non-refundable airline tickets or hotel room deposits. AHA suggests that you do not purchase restricted or nonrefundable tickets for travel to the annual conference. AHA assumes no liability for penalties or fare increases should the annual meeting sell out or in the unlikely event that changes to the annual conference dates and/or location become necessary. Hotel reservations, cancellations and charges are the attendee's responsibility.
Scheduling Changes
AHA reserves the right to reschedule or cancel a program because of an insufficient number of registrations or to close registration when programs are full. AHA may cancel a program when circumstances beyond AHA's control - including, but not limited to, acts of nature, governmental authority or war in the United States—make it impractical or impossible to host the program or may put participants in harm's way. In such cases, AHA will refund the registration fee paid by the registrant.